My review of WCL

Getting to WCL (Metro)
I was staying near the Metro Centre stop (xfer point for the Red, Orange, Blue lines) so I took the Red Line up to the AU-Tenley town stop. From there the law school shuttle picks up, across the street from the AU main campus shuttle. I've heard horror stories about what a hassel it is getting to and from WCL, from my experience it wasn't a pain in the butt that people whine about. The shuttle drops off behind the WCL building or there is the option of taking the undergrad bus, which seemed to run almost every 8-10 minutes and then walking (down the hill!) to the law school. I also found that a bunch of the metro buses run right past the law school! Driving to campus, as almost everyone has commented is not fun if you're a 1L b/c you have to park at a commuter lot and take a shuttle. But they just opened an independent lot very close to campus and it's $75/mo to park there. I forgot to ask if you can "buy" parking passes (for the lot under the building) from 2L/3Ls like we did in undergrad.

Near the Tenleytown Metro stop there were a few places to eat, a Best Buy, Container Store, and a gym.

While I was on the bus I heard a bunch of 1Ls comparing spring semester to fall. All (4) of them said that they had barely started outlining (12 weeks into the semester and only a few away from finals) and they agreed that this semester was harder because they slacked off so much at the begininng. I stored this tidbit away for future reference...Do NOT slack 2nd semester!! The girls also were talking about their lack of social lives this semester and how they're constantly tired and just can't get up the energy to go out. Boooo!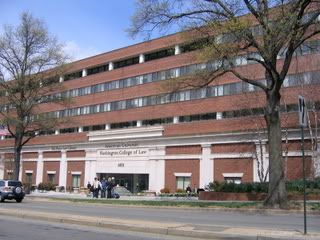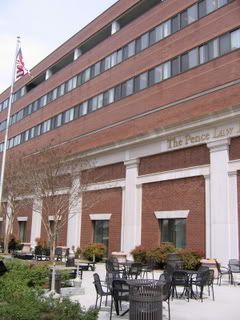 I sat in on a 1L class at WCL. It was not as scary as all the stories that i've heard. In the hour that I was there they covered 2 cases. The prof only cold-called one girl, and she wasn't really all the prepared. I don't think she'd done the reading, she didn't know what the facts or holding were. Most of the class was volunteers. When the prof started the class he jumped right in and everyone started typing furiously to keep up with what he was saying. After a little while he slowed his pace and started posing hypos and asking questions instead of straight lecturing. I tried to spot the "gunner" but couldn't pick him/her out. I've heard from others that many students in class are on IM, surfing the internet, etc and not really paying attention. The class had maybe 60 students and I could see ~25 screens from my seat, only 3 were surfing and didn't have any notes up on the screen. A couple switched between IM and taking notes. From what I could see a lot of people seemed to book-brief, i didn't see any rainbow highlighting though.

Large Classroom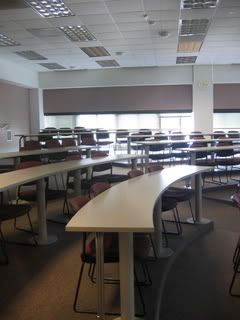 The classrooms that I saw were all clean, bright, and modern. There is a lot of sunlight coming into the rooms, which should help keep people awake. The whole building has wifi and each seat in the classrooms have power source and are hardwired for the LAN.

Lockers



Hallway, Lockers


Every 1L gets assigned a locker. 2L and 3Ls can request to be assigned one. This really did remind me of high school!

Laptops: I only saw 2 students in class without a laptop (one guy was in the back and I think he was asleep thru the whole class). There was probably 30% Macs and a Lot of Dells. The Macs work on the network and no one seems to have a problem using them, except for exams. For exams there were a couple of different scenarios 1) the law school brings in a bunch of laptops for students to borrow for exams 2) the profs let the students use their macs without the exam software and they go by the honor code that noone will cheat.

Library(Very Bright)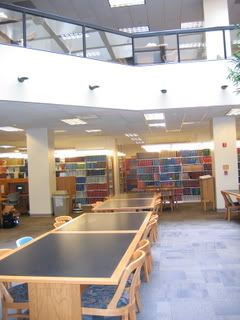 Quiet Room in the Library



Study Desks in the Library


I stopped by the library and, well, it was a library. Lots of light from the skylight, there seemed to be enough study desks, but since it was a Friday it wasn't very crowded. All the desks had a light and power source.

Ceremonial Courtroom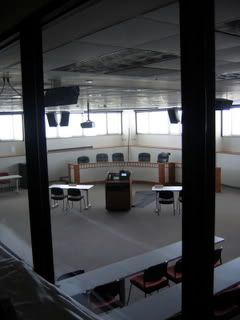 WCL Cafeteria


Eating options around campus included a bagel/sandwich place, starbucks, chickin out (i assume to be a rotisserie chicken place), and the WCL cafeteria (which I was told by a 2L is not great)

Pool at the AU Main Campus


There is no fitness center at the law school, but students can use the main campus facilities. Working out is a priority for me so I had to check it out. Maybe I'm spoiled, my undergrad had the most amazing, HUGE, gym, in NYC I had a beautiful place to workout (that I paid a pretty price for too...OUCH!) and if I wanted to get outside I had Central Park at my doorstep. After visiting the AU gym, i'm majorly disappointed!! It was tiny and way too crowded. There is a nice jr. olympic pool and diving well, but the cardio section, while equipped with brand-new machines was only about 500sq ft and every machine had wait to get on, and this was in the middle of the day, i could only imagine peak-after-class-ruch hours! They had about 10 elliptical, step, and arctrainers, all with personal tvs! The treadmills were ok, but they didn't have tvs and faced a blank wall. The weight and stretching area was cramped with a lot of equipment and no place to move. Overall, my review of the gym was that it has the right equipment, but it needs to expand. I'll prob end up joining the gym by the Tenley metro stop if I move to DC, or finding someplace close to home and only use the one on campus in a stressin out emergency.

Around the campus were some beautiful houses (definitely out of the student price range!). i didn't really look too closely at apt or condos close to campus b/c I'd probably live near Dupont. I was told by a student to avoid at all costs the apartments that the school recommends (can't remember the name). She said that they're expensive, not worth their price, and its very likely that you could be placed with and undergrad roomie!!! I did check out a couple of apts and condos in the dupot, adams morgan, and georgetown areas. Expensive, but not that bad compared to NYC. If I end up in DC there's a chance I'll be buying rather than renting (after moving every year or 18mos for the past 16 years I'm ready to put down roots somewhere.)

All the students that I met seemed very nice and helpful, albeit a bit stressed out and tired. A couple of them told me that last year they had been deciding between the same schools that I am, and none of them regret their decisions to go to WCL. They did all complain about the cost though (of course!) My superficial description of the students is that there is just about every type there, but a majority of the students were dressed in jeans/tshirts/sweatpants/baseball caps. A couple were in business casual, a few guys had collar-popped shirts, and there were more "vivians" than "elles". Like I said, this is my superficial impression of the students.

Overall, WCL is among my top choices (if I get in off the WL). The cost is going to hurt, but there are some programs that i really like (clinics and study abroad) and I LOVE DC! I had the best time going out with friends, I checked out a few of the rowing programs on the potomac, and buying is more affordable than in NYC!

Cheers!